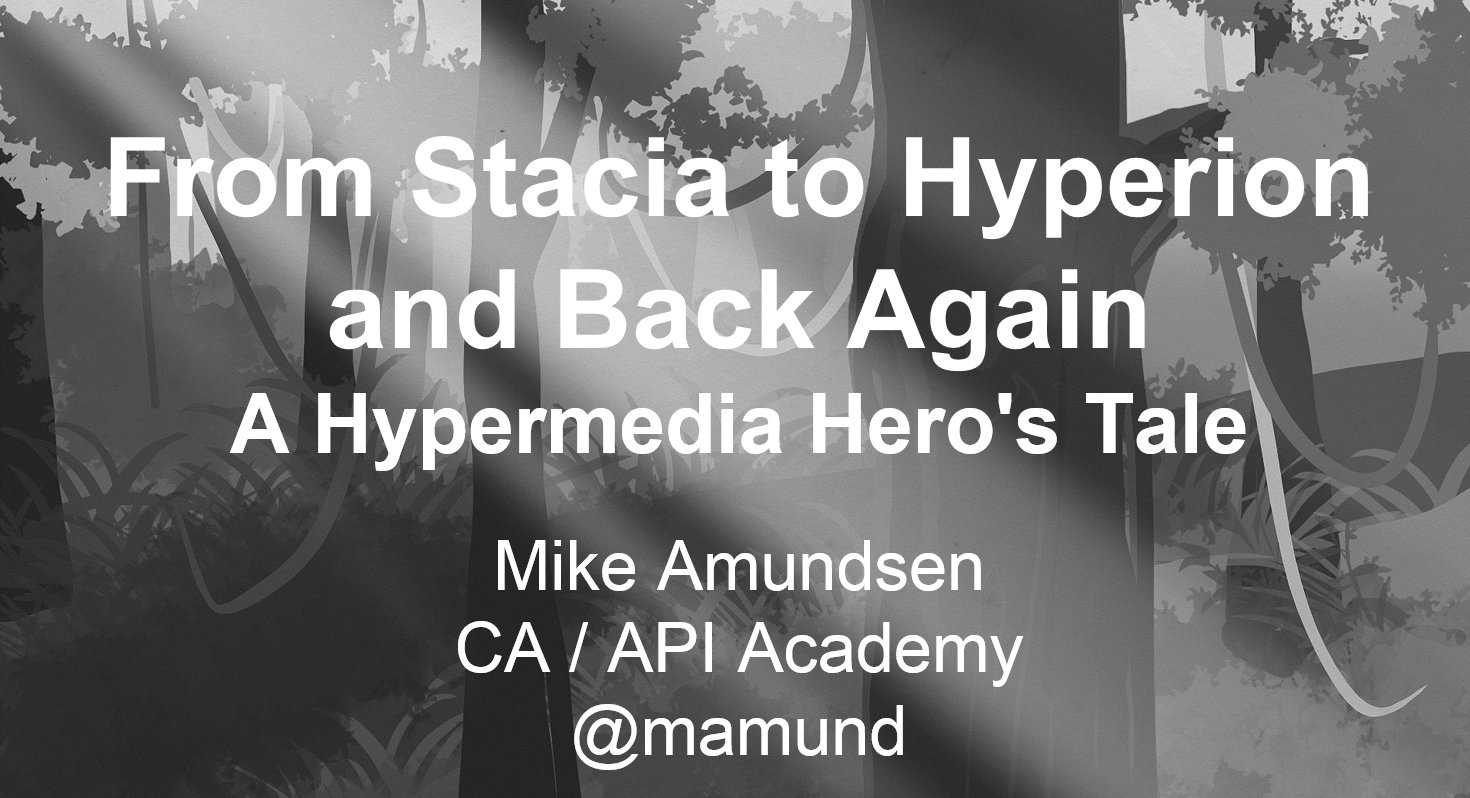 Overview
Status

Delivered 2015-05-05 at API Days Mediterranean, Barcelona

Slides

Prepared Talk

Prepared Text NOTE: these are my prepared notes, the actual presentation will vary

Video

Pending

Transcript
Abstract
From Stacia to Hyperion and Back Again
Come along on an adventure where our hero leaves the comforts of the peaceful town of Stacia for the hustle and excitement of the magical city of Hyperion. That means attempting to cross the Great Expanse: a mysterious, ever-changing forest full of enchanted creatures and unknown obstacles. What lessons will be learned along the way and will our hero be able to make it back home safely?
Through the power of ancient myth and story-telling Mike Amundsen takes the audience on a journey that reminds us all of both the challenge and the wonder of computing in the information age and — in the end — encourages us all to embark on our own hero's journey.
Speaker : Mike Amundsen
Director of API Architecture, API Academy, CA Technologies
An internationally known author and lecturer, Mike Amundsen travels throughout the world consulting and speaking on a wide range of topics including distributed network architecture, Web application development, and other subjects.
In his role of Director of Architecture for the API Academy, Amundsen heads up the API Architecture and Design Practice in North America. He is responsible for working with companies to provide insight on how best to capitalize on the myriad opportunities APIs present to both consumers and the enterprise.
Amundsen has authored numerous books and papers on programming over the last 15 years. His most recent book is a collaboration with Leonard Richardson titled "RESTful Web APIs" published in 2013. His 2011 book, "Building Hypermedia APIs with HTML5 and Node", is an oft-cited reference on building adaptable Web applications.